Project: Zaccaria Winter Sports
Purchased in the fall of 2003 at Pinball Expo in Chicago, this game was in pretty good original condition. There was some damage to the cabinet front around the edges of the coin door frame, and a bit of playfield wear by the standup targets on the left side of the playfield. A few minor chips out of the backglass artwork, but nothing that would be very noticable.
Fortunately, the cabinet front on the 1st generation Zaccaria games does not have any artwork on it; just some paint, and some splatter. That makes repairing the damage and repainting the cabinet front relatively easy to do.
Some pictures of the game after restoration:

A 3/4 shot of the overall game, from the right side.

Two views of the playfield.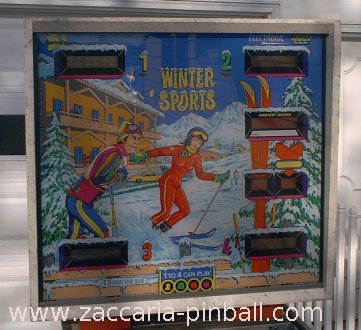 The backglass.

Inside the backbox. Note the speaker, which plays through a hole in the lamp insert board, directly at the back side of the backglass.

Lit up and ready to play!

Shortly after these pictures were taken in the fall of 2004, the game was sold and delivered to its new owner.